---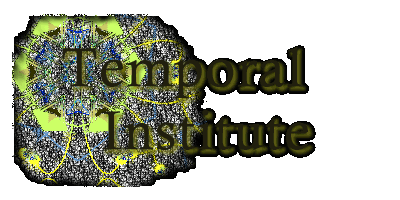 ---
You have reached the transit lounge of the Temporal Institute
Please pick your timeframe and destination
Mythic Greece
The Days of Legend

Visit the

Heliconian Museum

for Chronicles of Gods, Heroes and a Herculean experience

Somewhere in the Pacific


Stop off at the

Monkey Bar

on Boragora for tales of romance, adventure and a one eyed dog ...

Travelling in Time
(Mostly) In the 20th Century

Leap across to the

Institute Archives

and discover how history was made. (Or should that be

remade

?)
| | Check the InstituteNotice Board for the latest anouncements. |
| --- | --- |
---
The Temporal Institute is purely a figment of Penelope Hill's fevered imagination ...
Comments, questions and suggestions will be welcomed. philla@cix.compulink.co.uk
This site last updated on: 15th February 2001
---
The Temporal Institute
Copyright ©1999
by Penelope Hill. All rights reserved. Stories and artwork found on this web site may be downloaded for personal use only. The contents should not otherwise be reproduced in any form, except as occurs in normal browser caching, without express written permission from the author.